Bridal boudoir photography is the best wedding gift you two will receive. The images can be presented to your spouse in a luxurious album or as a slideshow. I call boudoir a win-win gift. Not only will your spouse love you even more when you give them a set of jaw-dropping sensual pictures and videos of the women of their dreams, but you will also have a lot of fun making it, and you will significantly boost your confidence for the big day and beyond. If you are at all nervous about being photographed on your wedding day, then a bridal boudoir photoshoot is the ideal way to get over feeling camera shy. You are no doubt looking fabulous after the months of hard work, preparing, and pampering for the big day. It is the perfect time to have a boudoir session & create some beautiful memories celebrating this time in your life. However, bridal boudoir isn't limited to wedding day surprises as it also makes an excellent gift for wedding anniversaries to keep their physical attraction to you strong. You'll be showing them how sexy you still are because you're aging like fine wine.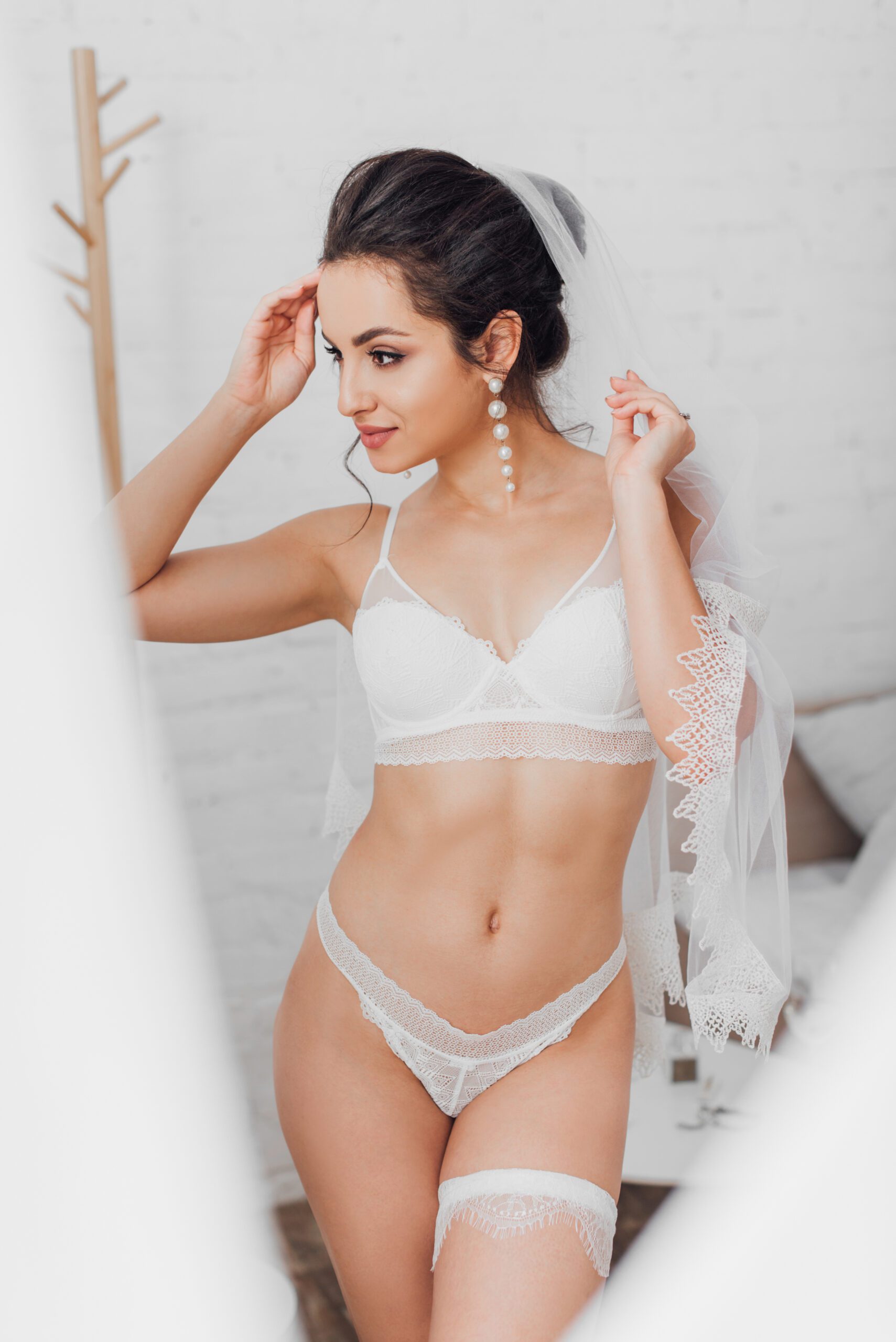 WHY WORK WITH ME?
I am not an ordinary boudoir photographer. I do not only provide pictures; I provide an unmatchable boudoir experience. The reason: I am not just a photographer; I am an empowerer, a listener, and more. Others shoot some pictures, and that's it. They move on to their next client, sometimes within an hour or two. Which means they quickly forget about you. In their eyes, you were just another client. In my eyes however, you are way more. I will work with you to create an experience custom-tailored to your needs & desires. I do not follow a cookie-cutter routine. Although I offer predefined packages, they are simply a base for deliverables and have nothing to do with session duration, theme, etc. I take many factors into account, such as reasons for the session, relationship status, levels of confidence & comfort, experience, and so much more. When it comes to boudoir, you shouldn't feel like you are only a client. This experience is highly intimate, and thus, the relationship should be more personal. I want you to view me as someone you can trust and come back to, even if it's not related to my work. After our session, I will give you my non-business number so we can keep in touch. I schedule sessions with up to 3 days of buffer. Doing so eliminates time stress and allows me to give you the attention you deserve before, during, & after our session. This is why I book such a limited amount of boudoir sessions per month. I am a firm believer in quality over quantity.
MY PLEDGE TO YOU 
I will listen to your needs and desires.
I will encourage and empower you.
I will be myself so you can be yourself.
I will make your experience comfortable yet fun.
I will give you the attention you deserve.
I will never rush you.
I will make you feel like the queen you are.
I will treat you and your images with respect.
I will keep any & every secret.
Below are my bridal boudoir session packages and my bridal boudoir session add-ons. Unlike other photographers, I do not keep my pricing hidden and surprise you with the price list after you committed to a shoot. There are no hidden fees or upsells here. If you need something different and more customized, click the button below the packages so we can discuss your needs.
RUBY
15 PAGE (30 SIDES) G.I.L.A
DIAMOND
25 PAGE (50 SIDES) G.I.L.A
* G.I.L.A stands for Genuine Italian Leather Album. A 12″ by 12″ album made from high-quality materials, including thick paper, premium ink, and of course, some of the most exceptional leather. The leather is black and features embossed lettering on the cover for an even more lush appearance.
* Makeup and hairstyling are not included. They are considered optional pre-session addons. If chosen, the styling will be done by one of my stylists at the session location. I do it this way because, unlike other photographers, you are not forced to have your hair done by my team. You may do your own or have your existing stylist do it instead.
* Professional makeup + hair combo is excluded from the package included choosable pre-session add-on, it will count as 2 pre-session add-ons.
BRIDAL BOUDOIR SESSION FAQ
As long as it has to up to 24 hours. Remember, my sessions are not squeezed into time slots, I leave a lot of time cushion. How long it lasts depends on your chosen package and your experience. Extremely experienced women or models may use an hour for each outfit while the unexperienced may use up to 3 hours per outfit.
If needed, I am willing to extend the session past 24 hours and all the way to my next session (which is usually 48-72 hours after) if under the right circumstances, with a mutual verbal agreement. Whether that includes additional payment or not. 
Nope. Removing pieces from an outfit does not make it a new outfit. You can remove it all the way to fully nude and it will still be considered the same outfit. Although I like to say the best outfit you can wear is your own skin, nudity is involved and not considered an outfit. It is only considered a new outfit if you change your lingerie or if two items or more are changed or added.
Although I prefer one on one sessions for boudoir, I can do boudoir sessions with more than one. For duo boudoir sessions, you can add a partner or friend for $465. Note that you two will be in every single shot, no solo pictures, you will have to book a separate session for solos.
For group or special event sessions the price per person is negotiable.
Reminder: I only photograph females in boudoir sessions. If you want to include males, take a look at my erotic sessions.
You can expect to receive your digital pictures within two weeks, with the average being one week. For prints and gifts, it may take up to 2 months depending on how busy we are. So if you plan on buying those do schedule your date months ahead of gifting time.
Your photos & videos will be encrypted and stored securely on Amazon's cloud storage servers. You will be given a secret link to access your private folder from which you can view & download them anytime.
Your privacy is very important to me; I will never share your images without your approval. I will only post your pictures on my socials, portfolio, or publications if you are okay with it. You can also decide whether you want to be attributed or not and whether you want to use your legal name or fictitious name. Some women are ok with me publishing their images as long as their face is not fully shown, so that is also an option.
BRIDAL BOUDOIR SESSION ADD-ONS
The session location rate is for every 24 hours. 
Nice & comfy. May have a small yard. Average size is 1200 square feet.

Likely has a pool. It is surrounded by nature or on the hills. Average size is 2500 square feet.

Luxury House (Villa)

$5150

Guaranteed pool. Lots of indoor and outdoor space, hidden or on the top of a hill for ultimate luxury & privacy. Average size is 5000 square feet.

Modern unit in the city on the upper floor. Average size is 1400 square feet.

King/Deluxe Hotel Room

$309

Offers a king sized bed, sofa, bathroom, and amazing view. Average size is 400 square feet.

Offers a king sized bed, living room, bathroom, and amazing view. Average size is 800 square feet.

Presidential/Luxury Hotel Suite

$824

Offers a king sized bed, living room, dining room, bathroom, and amazing view. Average size is 1500 square feet.
Outfits not included, you are still responsible for every purchase.
I will take you lingerie shopping before your session & I will help you pick outfits that look best on you.

After a quick consultation, I will personally shop for outfits that will enhance your body & session mood.

Already have a lot of lingerie? We can have a video call before your session so I can help you decide.
Have your makeup done professionally on site by one of my stylists.

Have your hair done professionally on site by one of my stylists.

Professional Makeup + Hair

$515

Have your makeup and hair done professionally on site by one of my makeup artist.
Add an extra outfit change to your session (Limit: 10)
Additional Retouched Image

$155

Receive an extra retouched image (Limit: 100)

Additional Boudoir Video

$515 per 30 sec.

Receive additional edited video that can be applied to your boudoir video or made into a separate boudoir video.
If I am in your area, I can deliver them to you, if not, I will have them shipped.
12x12 G.I.L Photo Book

$1236

15 spread (30 sides) high quality semi-gloss paper enclosed in genuine Italian leather.

15 spread (30 sides) high quality thick lustre photo paper enclosed in genuine Italian leather.

25 spread (50 sides) high quality thick lustre photo paper enclosed in genuine Italian leather.

36x48 Wood Framed Poster

$804

High quality matte paper poster framed within a premium wooden frame.

24x36 Wood Framed Canvas

$1020

High quality cotton canvas framed within a premium wooden frame.

High quality 1014 piece puzzle (20x30 when assembled).

Premium calendar with plenty of space. (Next year's calendar).