Struggling to decide where to have your boudoir photoshoot? In this post, I will go over some location ideas and where you can have the photoshoot.
Your Own Home
This is the most obvious but also a great one. I enjoy photographing my clients in their own homes because it helps add to that personal flair that boudoir strives to capture. When you use your own home, you already eliminate what I call "room tension." It occurs when you are in a room you are not used to; you might not be as loose & laid back in an unfamiliar environment. Of course, after a while, it goes away, but using your home makes it so you don't even have to go through that step.
A lot of clients feel their home is not nice enough, maybe it's a bit messy, lacking furniture, etc… What I would suggest is to take this as an opportunity to tidy up your home, maybe even do a home makeover—takeout things you don't use or need anymore and give them away to thrift stores or charities. Add in new furniture & decor as desired to finish it off.
The Rooms
When people think of boudoir, they think of an overly furnished room where women relax in. In the modern world, that would most likely fit your bedroom but the session doesn't have to be confined to one room, your whole house can offer us something, even your patio or backyard!
Living Room
The living room is a great spot! It's usually the room that gets the most natural lighting, which I always prefer. Couches & sofas can be used for so many poses. The living room has a nice vibe of comfort and fun.
Kitchen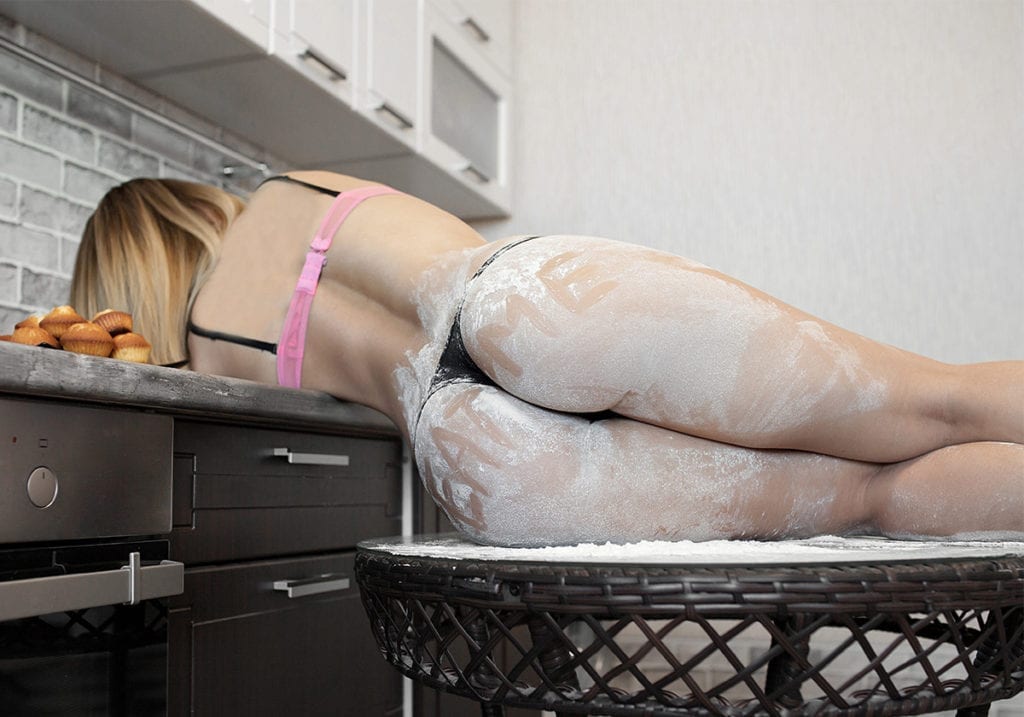 The kitchen can be turned into a fun & sexy shooting scene. Leaning or sitting on the countertops is a classic. You can even turn kitchen activities like cooking, baking, & even dishwashing into sexy scenarios that will make anyone go crazy!
Dining Room
Moving on to the dining room, you can kick your feet up on the table and do other poses with it. Laying on the table will surely make mouths water; after all, you are a sweet treat.
Bedroom
Bedrooms are the go-to, and it's self-explanatory why that is. You can mix up the vibe by adding candles, dimmable lighting, and other lighting decors. A fairly effortless way to add a warmer and comfier vibe is to use seasonal lights. Place them around the upper wall or have them hanging down, it works wonders in making a warm and cozy scene.
Bathroom
Depending on how big your sink is you can lay and sit on it. Using the bathtub or shower is also a sexy addition and well-loved by many.
Laundry Room
Sitting on the washing machine or doing laundry in lingerie just spells out H O T no matter what. You might make the water boil even if you set the wash to cold.
Yard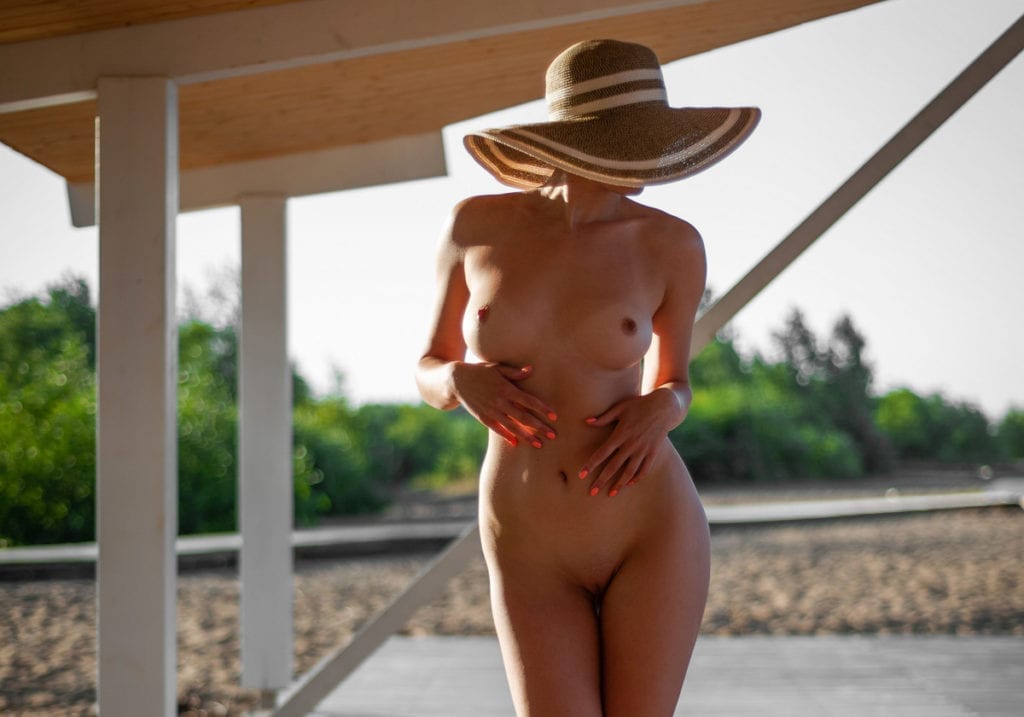 If you have a private yard, it can be used as well, and especially if you have a garden, it could make for some sexy gardening shots. Patios are great too! Having some outdoor furniture such as nice outdoor chairs or a hammock will make for beautiful shots.
That's just a quick summary. When you work with me, any private setting can be turned into something sexy & creative. If you live with other people, I suggest you consider another option below.
Rental Houses
The closest thing to using your home is a rental house. When going for a rental there are a few things you will have to consider:
Type: There are many options out there, but I recommend entire homes or villas, but apartments & condominiums are fine too. However, the reason I recommend a complete house is because they have every room mentioned above. But the choice is up to you; it just has to be amazing. Heads up! Make sure we have the full place for ourselves because there are shared options. The last thing we want is to share the site with someone else because it will be extremely awkward for everyone, and we might have to cancel the photoshoot.
Price: The premium rentals are priced higher; these should be your target. Depending on the location, a premium apartment could be anywhere between 500-1500 dollars a night. A premium rental house could be between 500-2000 dollars a night. Premium rentals are new or remodeled, well furnished, well maintained, and usually come with great outdoor space & views. We need a premium location to match my premium work! If you want, you can go even higher into the luxury range of up to 15000 a night.
Duration: The minimum rental duration is, of course, one night. The thing about rentals is that the check-in is in the later afternoon around 3 PM. Be aware that the premium & luxury rentals tend to require at least a 2-3 night stay and sometimes have a 1-4 week minimum! 2-3 nights might be the best bet anyways, depending on your budget & wants. Three nights is best if you want some buffer time, which I highly recommend. Your session with me may last up to 24 hours, depending on the package, but I might give you the option to extend it past that under the right circumstances. We could begin the session on check-in day or the following day.
Do note that many owners are not keen on people having photoshoots at their homes. The funny thing is that everyone has a phone, and everyone takes pictures when they are anywhere, especially at a rental. The reason I mostly hear for being against a photoshoot is because they think we will end up bringing in a whole crew or break things. I don't use much equipment at rentals if you're wondering. If you want to be on the safe side, go ahead & ask if we have a boudoir photoshoot there. However, there is a chance you might be rejected at a place you like, to minimize the chance of being declined you can say something along the lines of:
Hello (name),

I am looking to get away from our busy world for a couple of days, and I found your home to be the perfect spot for a staycation! I would love to book your home for (number) nights. However, since it is your property, I wanted to get your approval on something. Since I will be relaxing and distressing, I also wanted to have a boudoir session to unwind even further, so I will be bringing a photographer. We won't be using crazy equipment or making a ruckus; boudoir photography is a very gentle genre. If it's okay with you, I am ready to book right away!

Thank you & I look forward to your positive response!
Also, during the conversation, you can let them know not to disturb or walk-in during your stay because you will be in lingerie and nude. This situation mostly applies to apartments and condominiums where the host might live in another unit. They usually point that out in their description. They might also state that they like to meet their guests, which is code for, they live close by, and we might come into contact with them. Some hosts though are overly friendly or cautious and may try to stop by. A single home that is not shared is less likely to be visited by the host. Be wary though as asking this might make the host think that something will be going on and they might back out. You can probably skip saying this unless you highly believe they might want to meet us at any time.
If you don't want to deal with that whole booking process, you can purchase a location add-on. I also offer packages for singles that include a premium rental or a luxury rental.
Hotels
Hotels can do for a boudoir photoshoot as well. They are generally priced lower than rentals because things are shared. They of course don't offer a full home experience of privacy and space. You should always go for the more expensive option if choosing a hotel. I recommend a suite over a room as it comes with sofas & other furniture, so we have more scene options. The lowest-priced yet good enough for a boudoir photoshoot are top tier rooms. They are usually marked as King Room or Deluxe Room because they have a king-sized bed and some furniture. Next up are suites, suites have a living room separate from the bedroom. Different hotels have different names for their suites but the most lavish one is generally named Presidential Suite. The higher cost suites come with a dining area and have more square footage. The sizes are similar to a premium apartment. There are also mansions or condominiums that are turned into hotels. A mansion turned hotel grants us one-bedroom; they tend to be well furnished big rooms. The downside is that we will have to be confined to the room as the kitchens, bathrooms, etc. are shared with other guests. Compared to standard hotels where we have a bathroom to ourselves. Condominium hotels are also shared; these are like renting a condominium, except the staff tends to be more involved, which is not a good idea for boudoir. Make sure the hotel is well maintained and cleaned; it's usually not a problem with higher-end hotels. Hotels are also a package add-on I provide.
Studios
Studios are usually open warehouses with different scenes & backdrops. Older studios tend to have a vintage feel with cracked floors & walls, which many clients like. Many modern studios are homes, so renting a studio for a boudoir photoshoot would be close to just renting a home in many cases. The bigger studios I mentioned are usually shared with multiple photographers, so they lean towards catering to models. If you want to take the studio route, always make sure you have the whole studio unless you feel comfortable being seen by other people working there.
Outdoors
The key to outdoor boudoir photography is to find a secluded piece of nature. These areas are generally offroad and not along or near a trail where other people could see us. I take the if we can't see others, they can't see us. However, there is still always the possibility of being seen. Although a very tiny chance, you must be comfortable being nude just in case. Some clients want to jump straight to the outdoors because it's something they really want to do. Unless you're already body confident or you have no problem stepping out of your comfort zone, you shouldn't take on an outdoor boudoir photoshoot because you might be tensed up and worried about being seen by others. Therefore, I recommend we do an indoor session first then schedule an outdoor session for another date because your first session will surely make you comfortable being nude & sexy.
Locations
There are a few outdoor niches we could explore:
Coast & beaches
Grassland
Mountains
Desserts
Farms & wine fields
We will arrive at an area with such terrain, and before continuing, I will use my drone to scout the area for the perfect spot. Regional parks are not recommended, they may seem like the easiest to get to, just go to a park and get off trail; I've tried it twice before, people just kept making their way to us even if we went off the path. It could also lead to a fine, depending on the park.
Now moving onto farms and wine fields, if you want a countryside vibe, these are what you should go for. If you know someone who owns a farm or field and you are willing to ask for permission, then go ahead! The only problem would be that if the farm is active, people will be looking over. Make sure you can have the land unoccupied.
Also, we could use a car! Using the inside of a car is always fun. We will of course, be in a private location as well.
Weather
Outdoor boudoir photoshoots should take place on a warm day. It doesn't have to be sunny; clouds help add some personality to the images & help with the lighting. The lighting on partly cloudy or cloudy days is not as harsh, compared to a sunny day where you will have to be squinting, which we do not want in your images. If you are wearing a cape, some breeze will be perfect for it so it can majestically flow. It should not be cold, or you may get goosebumps, which are extremely difficult to hide, even with editing. I also don't want you to be chilly, so the weather is a significant factor in scheduling.
Time
Dawn & dusk are go-tos for photography, but unfortunately, getting boudoir shots at that time can be painful & itchy. You guessed it, mosquitos! The pictures are best taken on warm days as stated earlier, but that also means the mosquitos are out & they're active! Since you'll be wearing little to no clothes, the mosquitos will have it easy. On such days it would be best to start around noon, but don't worry, there are workarounds to getting those golden light pictures if you desire. One way is, of course, to use mosquito repellant, and the other is to have the session in dry areas with no water source or green grass in sight, mosquitoes avoid waterless areas such as deserts. This will also be considered when scheduling.
Those are some location ideas we can use for your boudoir photoshoot. There are many great options, and when you work with me, there will always be a way to get some sexy and creative pictures!